In 2009, the International Quilt Study Center & Museum hosted an exhibit called A Fairyland of Fabrics: The Victorian Crazy Quilt. I just visited the Museum
site
and read through the great accompanying materials. There is historical info plus photos of several of the beautiful crazies that were in the exhibit.
What caught my eye was a photo detail of one of the exhibit quilts: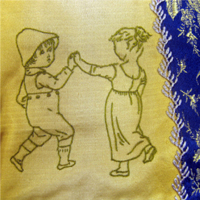 International Quilt Study Center & Museum
I recognized the same two dancing children from a crazy quilt, dated 1883, that I repaired a while ago. Here they are on that quilt:
Now isn't that fun!
One of the many embroidery traditions associated with crazy quilts are renditions of artwork by the popular author Kate Greenaway. And here we see two different quilters who chose the same illustration and added their own detailing.
My
post
about the quilt I repaired shows several other Greenaway designs amongst other crazy quilt staples such as flowers, animals, and fans. And, we get a more personal glimpse into this particular lady as she shows us several pieces from her favorite china set!